I simply do not understand where the real issue is. Are people simply too lazy to work, is there a lack of qualified people? Pharmacies are or were notoriously an area where money could be made. Someone has to explain to me what is going on.
Dans les officines, les pharmaciens manquent de plus en plus à l'appel
Les pharmacies ont de plus en plus de mal à recruter des salariés diplômés mais aussi, hors des grandes villes, à trouver repreneur.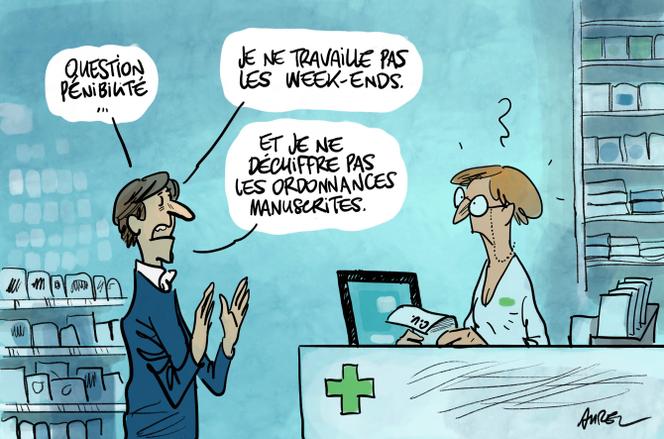 « C'était devenu difficile ces dernières années mais, depuis le Covid, c'est catastrophique. » Au comptoir de la pharmacie de Donzère, dans la Drôme, Brigitte Boyer, 68 ans, soupire un instant, avant d'enchaîner, dépitée : « En trente ans d'officine, je n'avais jamais vu ça. Autrefois, on parvenait à recruter en un mois ! Là, ça fait un an et demi que je cherche, sans succès, un pharmacien adjoint. » Résignée, la pharmacienne s'est finalement résolue, cet été, à fermer son commerce les samedis après-midi. Une décision prise à contrecœur, mais « nécessaire », pour « soulager un peu les équipes », épuisées par la charge de travail.
A 400 kilomètres de là, scénario semblable dans la région dijonnaise. « C'est la même galère, constate cet autre pharmacien. Pour la première fois, j'ai vu des confrères baisser le rideau pendant les vacances estivales, faute d'avoir trouvé des remplaçants pour garder la pharmacie ouverte pendant les congés de leurs salariés. »Lire aussi : Article réservé à nos abonnés Avec la pénurie de généralistes, 11 % de personnes n'ont pas de médecin traitant en France
Entre les prescriptions médicales, le conseil aux clients et les nouvelles missions de santé comme la réalisation de tests Covid-19 et la vaccination, l'activité des pharmacies a bondi ces dernières années. Mais, après avoir accueilli avec enthousiasme l'élargissement de leurs responsabilités, les officines, confrontées à une pénurie de plus en plus criante de personnel, dépriment.
« Les difficultés de recrutement se sont accentuées. Il manque actuellement 15 000 préparateurs et pharmaciens dans le réseau officinal. Aucune pharmacie n'échappe aujourd'hui à ce phénomène », confirme Christophe Le Gall, président de l'Union nationale des pharmaciens de France. Même les territoires ultramarins sont à la peine. « Malgré une rémunération très attractive, un contrat de trente-cinq heures, et la prise en charge du billet d'avion et du logement sur place, on ne trouve personne », explique un pharmacien hors de la métropole. Sur la Toile, les annonces postées sur les sites de recrutement et les réseaux sociaux témoignent de cette quête effrénée : « Nous recherchons toujours un pharmacien », « nous avons besoin de vous », « pharmacie désespérée »…